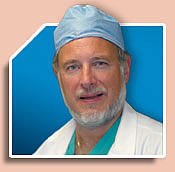 F. Andrew Morfesis,
M.D., F. A. C.S.
My name is Andrew Morfesis, M. D., Fellow of the American College of Surgeons and the duties that I perform are in two categories:
1. Diagnosis of problems that are treated with surgery.
2. Surgery of many problem areas
such as abdominal surgery including hernia, breast problems, surgery of any type of cancer, and surgery
due to injuries.
One of the biggest areas in which we assist patients and referring doctors is situations where there is pain and determining if the pain and/or growth is surgically treatable. In addition, we offer expedited service where we can see patients the same day for emergency problems.
I have worked at Owen Drive Surgical Clinic of Fayetteville for around seven years but I have been in practice almost 25 years.
I love my job and I chose this field because I believe as an expert in the treatment of illnesses, I can make a difference. I have some knowledge of many languages including Spanish, German, French, Greek and some Italian and I am able to communicate well with people and assist them to resolve their problems.
SPECIALTY: Board Certified in General Surgery
Licensed in North Carolina, and Kentucky.
EDUCATION:

1970 - 1975: BS Degree, Antioch College in Yellow Springs, Ohio
1975 - 1979: Doctor of Medicine from Penn State University Medical
School in Hershey, Pennsylvania
1979 - 1981: Intern and resident in General Surgery at the University
of Maryland Hospital, Baltimore, Maryland
1981 - 1984: Resident and chief resident in General Surgery at
Lankenau Hospital, Philadelphia, Pennsylvania
PROFESSIONAL EXPERIENCE:
1984 - 1987: Attending surgeon at Noyes Hospital, Dansville, NY
1984 - 1988: Surgical consultant at Groveland State Prison in
Groveland, NY
1987 - 1989: Surgical consultant at VA Medical Center, Bath, NY
1987 - 1988: Trauma surgeon at St. Mary's Hospital Emergency Room, Rochester, NY
1989 - 1997: General surgeon at Harlan Appalachian Regional Hospital,
Harlan, KY
1997 - 2000: Attending surgeon at Bladen County Hospital,
Elizabethtown, NC
2000 - Present: Attending surgeon, Cape Fear Valley Regional Medical
Center, Fayetteville, NC
2004 - 2013: Co-Director, Trauma Service at Cape Fear Valley
Regional Medical Center, Fayetteville, NC